Deontay Wilder Car Collection | Deontay Wilder AKA The Bronze Bomber Net Worth and Income
The Bronze Bomber Aka Deontay Wilder Car Collection is as amazing as his boxing carrier, the car he owns includes Rolls Royce Phantom and Cullinan, Dodge Challenger Lamborghini Aventador, and Polaris Slingshot.
Deontay Leshun Wilder is an American professional boxer. He held the WBC heavyweight title from 2015 to 2020, making ten successful defenses. By winning the title, Wilder became the first American world heavyweight champion since 2004, which was the longest period of time in boxing history without an American heavyweight champion.
He currently has an impressive record of 42 wins, 1 loss, and 1 draw in his pro boxing career. As of May 2021, he is ranked as the world's third-best active heavyweight by BoxRec. Wilder had a late start to boxing, taking up the sport at 20 years of age. As an amateur, he won a bronze medal in the heavyweight division at the 2008 Olympics. This led to his nickname of "The Bronze Bomber", which Wilder coined after Joe Louis, who was known by the nickname of "The Brown Bomber".
Deontay Wilder Net Worth
The Proffecianol Boxer was ranked 56th in 2019's highest-paid athletes worldwide. As reported he has an estimated net worth of $30.5 million. From which $30 million by winning boxing matches and made another $500,000 through endorsements. In 2018 Deontay Wilder was paid $4 million to fight against Tyson Fury and over $10 million for defeating Dominic Breazeale.
| Deontay Wilder Car Collection | Prices In USD |
| --- | --- |
| Lamborghini Aventador | $591,000 |
| Rolls Royce Cullinan | $370,000 |
| Dodge Challenger | $42,000 |
| Rolls Royce Phantom | $477,000 |
| Hummer H2 | $100,000 |
| Polaris Slingshot | $20,000 |
1. Lamborghini Aventador
Deontay Gifted himself this lambo in 2015, after claiming the WBC heavyweight title from Bermane Stiverne. Special thing about the is that, the car is wrapped in coat of bronze, after all he is the Bronze Bomber. The car is covered with faux alligator-skin wrap to complete the look. Boasting cream leather seating, it's also luxurious inside and unlike any Lamborghini we've ever seen. He purchased this car for whopping $591,000. The Aventador can reach a top speed of 350kmph, and is one of the fastest Lamborghinis ever made. It has more than a 700 horse power V12 engine that can reach 0-100kmph in just 2.7 seconds.
2. Rolls Royce Cullinan
The most recent car he owns is the 2019 Rolls Royce Cullinan which he was spied driving and the Bonze coat on the car confirms that he is the only owner of it. Just like his other possisions he has also wrapped this luxury SUV in glorious Bronze finish. His Rolls Royce has a mottled black and bronze snakeskin finish, as well as a smooth leather interior. The hub caps on the car on the car are also customized with his famous logo this shows the dealing done on the car by famous Dreamworks Motorsports in North Carolina. The new luxury SUV Car costed him for around $370,000.
3. Dodge Challenger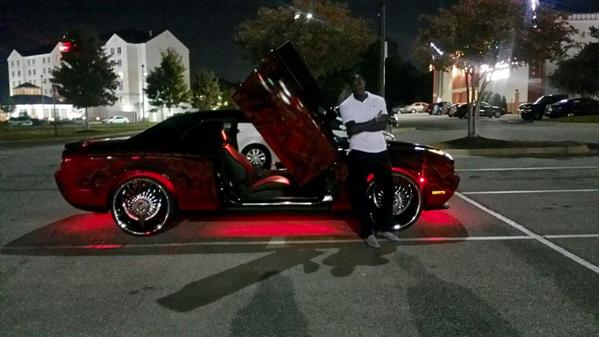 Ther is nothing like a Muscle car to fulfil you driving needs and to complete you garage. But the Muscle car is also the cheapest car in Deontay's car collection, but you can argue that its the most finest looking. The Dodge Challenger he owns comes with a starting price of around $42,000, but as every car in his collection he has custom-paint job done to it which make the price a lot more than that. The mojor Highlights like impressive hub caps, special side-opening doors and sprayed in shades of red makes the car look like a car from Fast & Furious franchise. Perfromance on the car is assisted by a 6.2 litre V8 engine.
4. Rolls Royce Phantom
Every man with the wealth should have a Rolls Royce, after all its a genetalman's car. But lucky Wilder has two. The first Royce in his garage is the Phantom Convertible, which is also a perfect cruise around in those hot Alabama Summers. The Phantom is also the most expensive Rolls Royce available in market and boxer has spent around $477,000 for this luxury beauty. Again, Wilder's Phantom has bronze metallic coat that fits with his Bronze Bomber moniker. The model he owns, the Phantom VII, has a 563 horse power V12 engine that's capable of hitting 100kmph in 5.1 seconds.
5. Hummer H2
Ther was a time in US when you could not move without Hummer, especially if you are among the sporting elite. However, the car manufacturer GM stopped making the Army-inspired SUVs in 2010. And that has made the Hummer a collectors item. The car costs around $100,000 and its a Bronze (again). Wilder has also named the SUV – the Bomb Zqua Mobile. One of the major highlight on the SUV is the 34 inch customer Bronze and Chrome star wheel rims which are also engraved with the words the Bomb Zqua on them.
6. Polaris Slingshot
He also own the ultimate boys' toy the Polaris Slingshot which is the three-wheeled which every petrol head wish he had. Deontay Wilder has shared images and videos of the car on social media, roaming around town on one. The Slingshot can go 0-100 kmph under five seconds and is practically a street-legal go-kart. The car has a 2.0-litre naturally-aspirated four-cylinder engine that was built in Germany alongside Mercedes-AMG V8 hardware which is available for $20,000.