Michelle Rodriguez AKA Letty Ortiz Car Collection And Net Worth 2021
Michelle Rodriguez Car Collection is as amazing as her films. The Fast and Furious actress has Jaguar F-type, Lamborghini Aventador, Ferrari 458 Italia, and Mercedes S class in her garage.
Mayte Michelle Rodriguez (born July 12, 1978) is an American actress. Her breakout role as a troubled boxer in the independent film Girlfight (2000) was met with critical acclaim and earned several awards, including the Independent Spirit Award and Gotham Award for Best Debut Performance.
The following year, she starred as Letty Ortiz in the blockbuster film The Fast and the Furious (2001), a role she has reprised in six additional films throughout the Fast & Furious franchise. She has also appeared in a number of successful action films, including Resident Evil, S.W.A.T., Battle: Los Angeles, and Avatar.
On television, Rodriguez played Ana Lucia Cortez in the second season of the television series Lost. She has also had numerous voice appearances in video games, such as Call of Duty and Halo, and lent her voice to the 3D animated film Turbo, and the television series IGPX. With her films grossing over $5 billion collectively, a 2013 Entertainment Weekly article described Rodriguez as "arguably the most iconic actress in the action genre, as well as one of the most visible Latinas in Hollywood.
Michelle Rodriguez Net Worth
Michelle Rodriguez Net Worth in 2021 is about $40 million dollars. Major earning source for Michelle still remains the film but she has been able to appear in multiple television movies as well as series, and this has made her not only famous but also extremely wealthy.
| Michelle Rodriguez Car Collection | Prices In USD |
| --- | --- |
| Jaguar F-type | $80,000 |
| Ferrari 458 Italia | $240,000 |
| Mercedes Benz S-class | $110,000 |
| Lamborghini Aventador | $500,000 |
1. Jaguar F-type
Jaguar F-type is not a common choice among the celebs but Michelle is exemption to that. The action star has luxury sports car Red Jaguar F-type parked in her garage. The actress used this car in movie and she became fan of the car and instantly bought one for herself. The Car uses a 3.0-liter supercharged V-6 which can deliver 400Hp through all wheel drive. The F-type costs $80,000 for the mid-level trim which Michelle owns.
2. Ferrari 458 Italia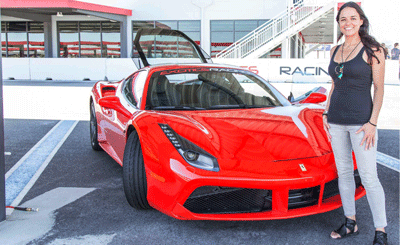 The most costilest car in her collection is the Ferrari 458, the 458 is one of the most beautiful Ferraris ever made. She has this car in Ferrari's iconic Red color with black dashboard and seats and cabin is in brown finish. The 2015 Ferrari 458 Italia is a rear-drive mid-engine supercar powered by a high-revving 4.5-liter V-8 rated at 562 hp and 398 lb-ft of torque which comes paired to a seven-speed dual-clutch automatic transmission. This car cost her around $240,000 for the model which the actress owns.
3. Mercedes Benz S-class
The most luxurious sedan in Michelle's car collection is the Mercedes S-class which also posses a luxury price tag of $110,000. Despite being an luxury sedan the car has a 3.0-liter inline-six turbocharged engine which generates 429Bhp and 521Nm of torque. Michelle uses this car in black colour with tan upholestry in the cabin. And wooden fisishes on the dashboard and armrests.
4. Lamborghini Aventador
The last supercar in her collection is the powerful Lamborghini Aventador which she has also used in her film franchise. The Aventador uses a 6.5-liter V-12 that develops massive 769 horsepower. The car costs about $500,000 For the fully loaded car. The car she owns is in Dark red color just like her Ferrari 458 Italia.