Rapper Offset Luxury Car Collection, Net Worth
Rapper Offset Car Collection – Bentley Bentayga, Lamborghini Urus, Mercedes Maybach S600, Rolls Royce Wraith, Lamborghini Aventador, Lamborghini Aventador SVJ Roaster, etc.
Kiari Kendrell Cephus, known professionally as Offset, is an American rapper. He is a member of the hip hop trio Migos, alongside his cousin Quavo and first cousin once removed Takeoff. He is also an investor in esports organization FaZe Clan.
Rapper Offset Net Worth
As of 2021, Offset's net worth is roughly $26 million. Offset, AKA Kiari Kendrell Cephus, is an American rapper, singer, and songwriter.
| Rapper Offset Car Collection | Prices (USD) |
| --- | --- |
| Bentley Bentayga | $165,000 |
| Lamborghini Urus | $222,000 |
| Mercedes Maybach S600 | $78,093 |
| Rolls Royce Wraith | $330,000 |
| Lamborghini Aventador | $460,000 |
| Lamborghini Aventador SVJ Roadster | $500,000 |
1. Bentley Bentayga
Bently Bentayga one car Offsets owns is the luxury sports utility vehicle from the British car makers. The Bently Bentayga we've already established offsets love for luxury and cars but you gets a particular liking for luxury cars from the migos star when put together. The Bentley Bentayga is one of the most expensive Bently cars and it's V8 version starts from $165,000.
2. Lamborghini Urus
The Lamborghini Urus is the thing of class and has all the making of a modern Supercar. If you get a glimpse of a Lamborghini from offset's garage you'd think it is just like any SUV. We're sure it cost a fortune for Offset acquire this solid SUV it's 2021 model starts from around $222,000. Surprisingly Lamborghini Urus is one of the cheapest Lamborghini cars you can buy.
3. Mercedes Maybach S600
Mercedes are the ultimate luxury german car makers. The mercedes offset owns is the Mercedes Maybach S600, this sleek Mercedes is a sedan car that goes for between $78,093 and it sits pretty in offset car collection. The car uses a twin turbocharged 6-litre V12 engine the interior of the Mercedes Maybach S600 speaks of class and luxury something we already know Offset understands well it's power is harnessed by a 7-speed automatic transmission along with the rear wheel drive.
4. Rolls Royce Wraith
Offset joined celebrities who owns Rolls Royce cars like Kim Kardashian and Floyd Mayweather who were proud owners. This Rolls Royce Wraith is the car that Bronx rapper Cardb bought her partner for his birthday last year. The couple has cultivated a tradition of gifting themselves a luxury and expensive rides and the wraith was a part of it. This luxury grand tourer comes as 632 hp machine with a V12 engine. The price starts at $330,000.
5. Lamborghini Aventador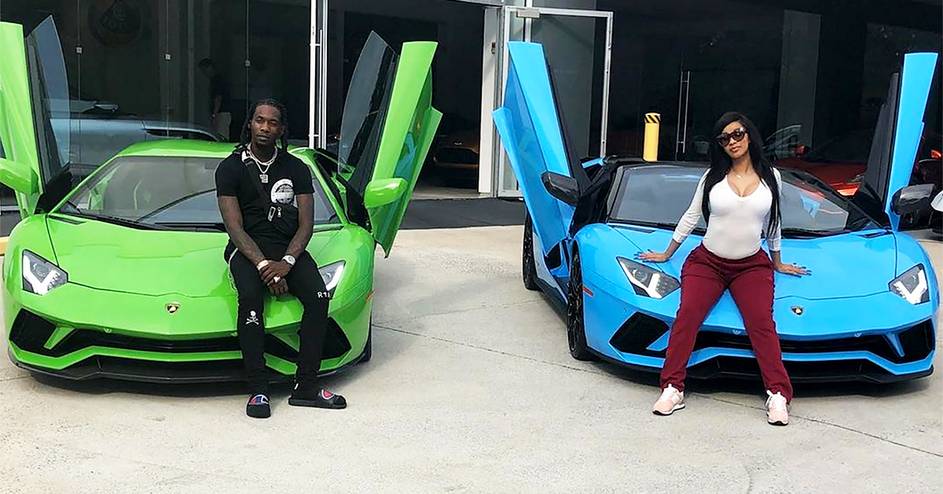 Rapper's love fast cars and the Lamborghini Aventador is fast expensive and a stunner what's even more interesting about offset tonning or even driving a Lamborghini Aventador. Cardb has own two this supercar is said to be capable of top speed of 217 mph. Provided the redline is increased 8,500 from 8,350. The Lamborghini Aventador is the ideal luxury supercar for the superstar. The Aventador is about $460,000.
6. Lamborghini Aventador SVJ
Cardb also gifted Lamborghini Aventador Roadster SVJ worth more than $500,000.