The world leaders have gathered in Bali, Indonesia, for the G20 Summit 2022, which includes the top leaders from all 20 participating countries. On the event's second day, India's Prime Minister, Mr Narendra Modi, was seen arriving in a Genesis Electrified G80 at Taman Hutan Raya Ngurah Rai, a mangrove forest in Bali.
The prime minister was spotted at the event, where G20 leaders toured the Mangrove forest and planted trees alongside other world leaders attending the summit.
He arrived at the venue in a Genesis Electrified G80, Hyundai's luxury brand Genesis' flagship all-electric sedan. The Electrified G80, finished in a commanding shade of black, was seen being escorted by a Hyundai Ioniq 5, which won International car of the year in 2022.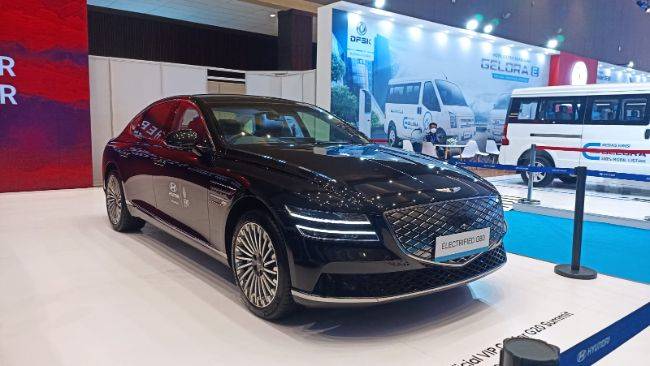 Also Read: Narendra Modi Car Fleet, PM Modi Armoured Cars
Hyundai Genesis Electrified G80
The Genesis Electrified G80 is the company's first attempt to create an all-electric vehicle for the elite masses. The Electrified G80 is based on the regular G80 flagship sedan and is powered by a dual motor setup with 136 kW motors mounted on the front and rear axles. This dual motor setup's combined power and torque outputs are rated at 370 PS and 700 Nm, respectively. It also includes an 87.2 kWh lithium-ion battery pack with a claimed range of 520 km.
Hyundai has yet to bring its luxury brand Genesis to India, but a few Genesis models have been spotted on Indian roads. According to reports, top Hyundai officials in India drive these Genesis cars on a daily basis. There were rumors circulating a few months ago that Hyundai was considering bringing the Genesis brand to India. However, Hyundai has yet to issue an official statement regarding these rumors. For the time being, Hyundai is preparing to launch the highly acclaimed Ioniq 5 all-electric crossover in the Indian market, which is expected to debut at the 2023 Auto Expo in January.
Also Read: India To Begin Supplying Petrol With 20% Ethanol Blending From April Next Year
Gujarat Man Modifies His Jaguar Xf With Tricolour Costing ₹2 Lakh