Onlookers in the streets were drawn in by a gold Rolls Royce Phantom that was being used as a taxi. You did indeed hear correctly! You won't see a taxi mark like the one atop the luxury car's roof every day. Boby Chemmanur, a well-known businessman in Kerala, is the owner of this renowned RR. Anyone who wants to experience driving one of the most expensive cars in the world can rent the Rolls from him for Rs 25,000 per day. See more information about this unusual incident here.
The RR taxi is seen moving people around Bangalore city in the video. The side profile of the gleaming car displays BOCHE's name and face, Boby Chemmanur. For Rs 50,000, he also rents out the Phantom for weddings. People have been making a tonne of reservations for weddings because it has been their lifelong dream to ride in one of these cars. He claims that he started using his RR for taxis and rentals because he wants to help people realise their dreams. People obviously went insane when they saw it in the streets.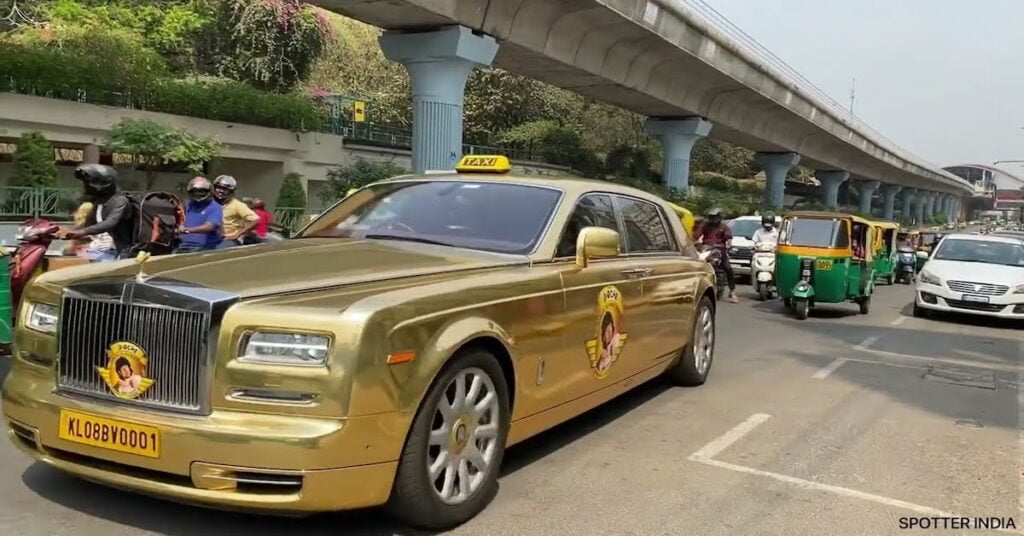 Also Read: Bentley, Lexus, Audi & Other Luxury Cars Submerged In Bengaluru Flood
The vehicle can be seen in the video parked in the middle of a city square. A blue Lamborghini is also parked nearby. People flocked to these two rare cars to take selfies and record videos. Everywhere they go, these draw a tonne of attention. Boby also owns a large number of Mercedes and Range Rover high-end luxury vehicles. He had the thought during the pandemic. People would go crazy when they saw his cars when he used to travel for business. He believed he could give them a taste of these rare cars at "affordable" costs.
In addition, he began offering helicopter transportation from Ernakulam to Munnar. People can now rent chartered helicopter services to add a special touch to their trip to Kerala. What do you think about Boby Chemmanur allowing people to experience luxury without spending their entire life savings on it?
Also Read: Meet the Man Who Drove the Same Rolls Royce for 77 Years !
Allu Arjun buys New Rolls Royce Cullinan Super Luxury SUV Worth Rs. 7 Crore