A Royal Enfield Bullet 350 catches fire on the road in this video. The Bullet is the country's most popular tourer bike. Enthusiastic riders who want to go on long trips to the mountains or across the country frequently choose the Bullet. Part of the reason for this is that it has a legacy of being a vintage and retro bike. It retains the majority of its mechanical and design elements from the past. Even today, its road presence and trademark exhaust note continue to attract new customers.
Bullet Guru has posted the video to his YouTube channel. He publishes content about Bullets. According to the information in this video, the rider of this Bullet was on the road in Bhubaneshwar when he noticed the seat heating up. After seeing the fire, he quickly parked the bike on the road and moved away from the motorcycle. When he managed to save his life, the bike was engulfed in flames. The entire bike caught fire moments later.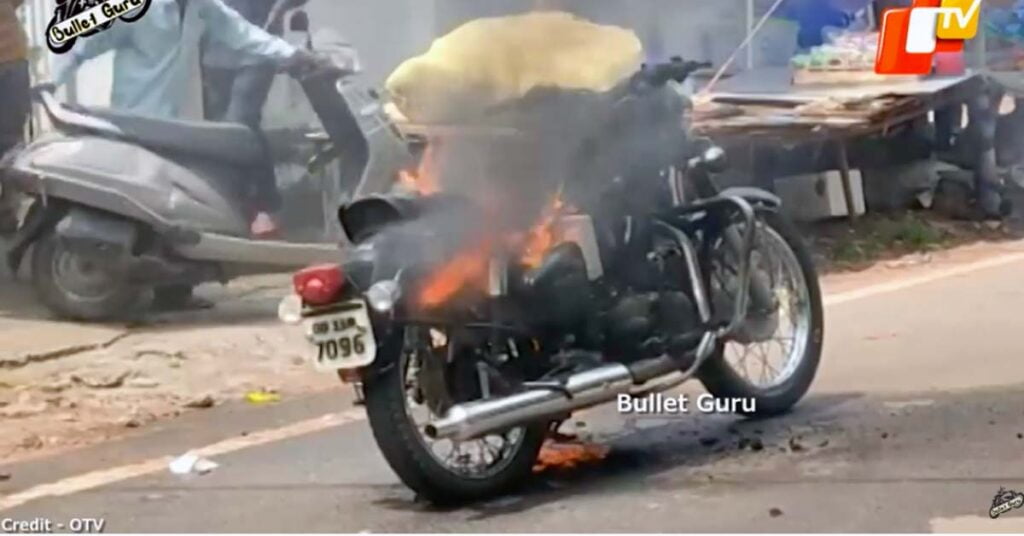 Also Read: Fire At Electric Scooter Showroom, 9 Vehicles Destroyed
The fire department was called, as seen in the video. The firefighters arrived on the scene with their hoses aimed at the burning vehicle. The bike was saved, but the rubber and plastic parts, including the seats, had already been destroyed by the fire. Hopefully, the engine and other critical mechanical components were not severely damaged. However, it raises concerns about the rider's safety.
The precise reason for this is unknown. The bike appears to be an older BS3 or BS4 model based on its appearance. There don't appear to be any aftermarket modifications on the bike. Internal short circuits, on the other hand, are entirely possible and could result in such episodes. Oil leaks may also occur as a result of the canister in the bikes slowly accumulating gases in the system. This could eventually result in fires. As a result, if you notice anything out of the ordinary, contact your local mechanic right away to have it checked.
Also Read: Jaguar I Pace Burnt To Ashes In A Fire While Charging In Florida
EV fire incidents: Consumer protection regulator issues notices to 4-5 cos