In the latest trend that has increased the popularity of modern ideas, there has been a massive exodus of orthodox values. Women are breaking free from old shackles and flying their wings to achieve their goals! Riding on the best scooters for women drew a lot of attention in time to meet the women's demand for communicating to the places they desired. Some fantastic scooters have excellent power and performance for accelerating while riding on the street.
A shift in the demand curve has resulted in the Best Scooters For Women. The scooters have evolved significantly from heavy to light, with a kick start that allows the scooters to be lighter in weight, easier to manoeuvre, self-starting features, and digital inclusions. The lightweight scooters have made them more convenient for the ladies. The aerodynamics and design of the two-wheelers will allow the women to navigate any road safely. Adding some spice to the best Light Weight scooty for womens at an affordable price is a trendy way to attract attention while riding on the road.
1. TVS Ntorq 125
The TVS Ntorq 125 is a sporty scooter on the Indian market. It is loaded with technology, and some models even have LED headlamps with LED DRLs. Despite being a true 125cc scooter, the TVS Ntorq is light. Its 116.1kg weight adds to the already excellent handling, making it an excellent scooter for women. Aside from that, it is extremely comfortable. The TVS Ntorq 125's 125cc engine produces 9.25bhp at 7,000rpm and 10.5Nm at 5,500rpm.
Read More: Top 5 Best BS6 Scooters In India 2022
2. Honda Dio
For a long time, the Honda Dio has been the quintessential kids' scooter. It has just the right amount of style and, thanks to the new telescopic fork up front, has become more comfortable in its latest iteration. It's easy to see why the Honda Dio ranks so high on most teenagers' wish lists. It is powered by a single-cylinder 109.51cc engine that produces 7.65bhp at 8,000rpm and 9Nm at 4,750rpm.
3. Yamaha Fascino 125
The Yamaha Fascino is one of the most fashionable scooters on this list. It has curves all over and it would be difficult to find a flat body panel. The long list of colour options available for the scooter adds to its styling. It is now greener due to its micro-hybrid system, which uses the starter-generator motor to provide an extra boost when needed. The engine produces 8.0bhp at 6,500rpm and 10.3Nm at 5,000rpm. It is also one of the lightest scooters in India, weighing only 99 kilogrammes.
4. Suzuki Avenis 125
The Suzuki Avenis is the most recent addition to the lineup. Suzuki India surprised everyone when it introduced the Avenis. It's a sporty scooter that not only looks good but also rides well. Though it appears bulky and muscular, it is not overly heavy and weighs only 106 kilogrammes, making it easier for women to ride. It has a 124.3cc engine that produces 8.5bhp at 6,750rpm and 10Nm at 5,500rpm.
5. Hero Pleasure+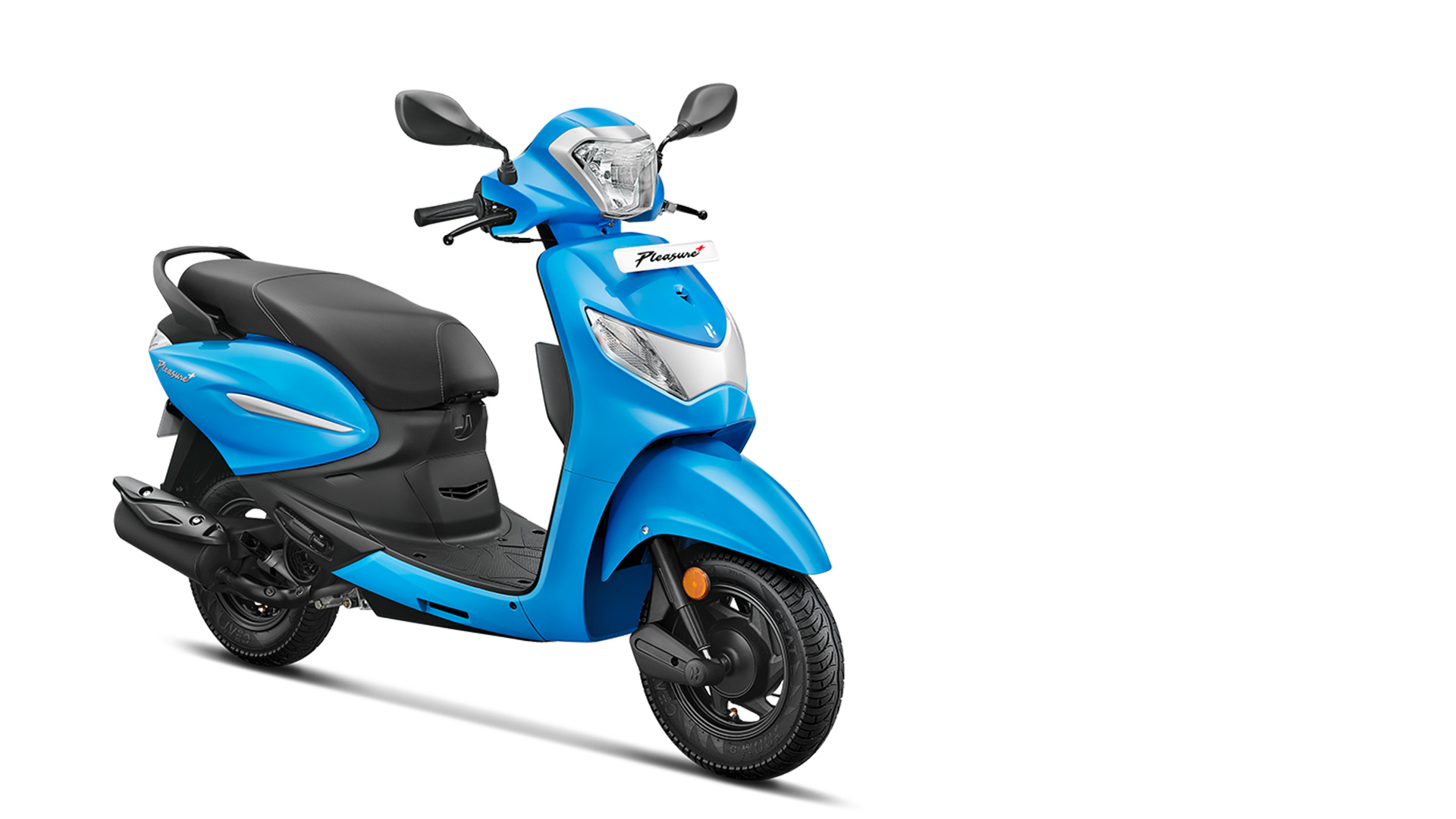 The Hero Pleasure has been around for a long time and rose to prominence with the tagline "Why should boys have all the fun?" The scooter was clearly designed with women in mind. In its most recent iteration, the Hero Pleasure is a feature-rich scooter. It has two front pockets and a USB charger for charging your smartphone. The scooter is powered by a 110.9cc i3S engine that generates 8bhp at 7,000rpm and 8.70Nm at 5,500rpm. For added security, the scooter has a combined braking system and a side-stand indicator.
Also Read: Best Scooters In India | Top Scooters In India
10 Best Electric Scooters You Can Buy in India (March 2022)