What Is Hero Connect
Hero Connect is a connectivity feature offered by Hero Motocorp with some of the bikes and moped on their portfolio. The feature is seated up in the instrument cluster of the bike and can be connected by a mobile app with android and ios platforms. The feature lets riders get every single ride detail on the mobile. The connectivity feature is now offered at an introductory price of Rs 4,999.
Benefits Of Hero Connect
1. Saftey
Sends an app notification and SMS to your registered mobile number and emergency contacts in case your vehicle topples.
2. Driving Report
Trip analysis: Helps review details like distance traveled, time taken, and route driven for all your trips taken within the past 6 months.
Driving Score: Calculates your score based on different driving behavioral patterns and tells you how well your bike is being driven.
Speed Alert: Sends an app notification every time your vehicle crosses the speed limit set by you.
3. Vehicle Security
Tracks your vehicle in real-time and provides an accurate driving path during the trip and shares current driving speed.
Sends an app notification and SMS to your registered mobile number, if any unauthorized vehicle movement is detected.
Sends an app notification whenever a vehicle leaves or arrives at set places of your interest or pre-defined geographical areas.
Helps to find your last parking location and also navigate your last location using Google Maps.
Also Read: Best Mileage Bike Under 60000 In India | 5 Best Budget-Friendly..
Hero Connect Setup
It is very simple to connect to the console via an app the detailed setup needs some simple steps as follows: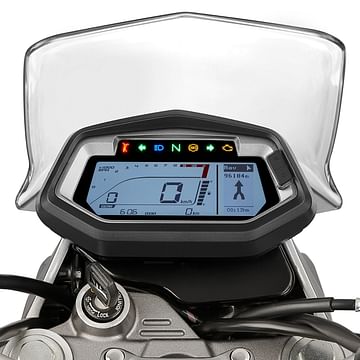 Firstly download the Hero Connect app on your smartphone and install the app.
After the 1st step you need to open the app and allow to every permission the app ask for.
After accepting the terms and conditions the screen will display the vehicle by its model name. (Hero Xpluse, Hero Destiny)
Once you have selected the vehicle the bluetooth searching on the app will start seaching for your bike
You need to start instrument cluster turn on the engine kill switch and press mode button on cluster
After pressing the button you will see the bluetooth paring option on the screen and the bike will start showing on the app.
Once you have tapped on your bike the app will send you the notification which will ask for paring
And it will ask for the Pin which will be available on the instrument cluster screen(It can be both letter or number)
After pressing connect button you will be reditrected to the home screen or a dashboard of app
You can select for navingation option to start turn by turn navigation on instrument cluster.
More Reads: World's Biggest Car Collection | $5 Billion Dollar Car Collection
Best Car Insurance In India | Top 5 Car Insurance Company…