The Insane Ken Block Cars
For Automotive enthusiasts, the name 'Ken Block' is not new. He is famous for the Gymkhana videos and the 'Hoonigan' brand of cars. Block is one of the co-founders of DC Shoes and a professional rally driver with the 'Hoonigan Racing Division'. He has competed in various action sports events like skateboarding, snowboarding, and motocross. GYMKHANA is the film series produced by him in which he shows his driving skills. The cars starring in this series have gotten legendary status over the years. Let's take a look at the GYMKHANA cars that he drove:-
1. 2006 Subaru WRX STI
The original Gymkhana video went viral on YouTube and made Ken Block known to the general public. Built by Vermont Sportscar and powered by a Subaru flat-four engine, this beast made 565 horsepower. It weighed 2775 pounds only.
2. 2011 Ford Fiesta
The 2011 Ford Fiesta started the successful partnership of Ken Block and Ford. Debuted in Gymkhana THREE video, this car had Oldsbergs 2000cc Duratec engine; producing 600 horsepower and could go from 0-60 mph in 2 seconds.
3. 2015 Ford Fiesta ST RX43
The RX43 i.e. RallyCROSS #43 was Ken Block's Gymkhana SIX and Gymkana EIGHT picture car. It could go from 0-60 mph in under 2 seconds, thanks to its 2000cc, four-cylinder, Garrett turbocharged engine; designed by Pipo. It was initially developed by M-Sport.
4. 1965 Ford Mustang Hoonicorn RTR V1
Featured in Gymkhana Seven, this beast produced 845 horsepower and 720 foot-pounds of torque at 6500 RPM. It was basically a 1965 Ford Mustang notchback with Roush Yates 410 Cubic inch Ford V8 engine with six-speed transmission and all-wheel gearbox. It featured body styling by Ken Block and Hoonigan.
Also See :- The Car Collection of Will Smith – From 1965 Ford Mustang to Rolls Royce Ghost !!
5. 2016 Ford Focus RS RX #43
The 2016 Ford Focus RS RX #43 was made to succeed Ken Block's Fiesta WRX-spec vehicle and it packs a 447kW 2.0-litre four-cylinder turbocharged engine, producing 600 horsepower and 650 Nm torque. It is capable to go from 0-100 kmph in less than 2 seconds. It was built by M-Sport. The vehicle appeared in Gymkhana 9 and 10.
6. 1977 Ford F150 'Hoonitruck'
Ken does not only have cars, this performance truck is also part of his collection. This award-winning truck was made for GymkhanaTEN, as a tribute to the late father of Ken, who had the same base truck back in his day. It comes with a 3.5-litre twin-turbo engine that makes 914 horsepower and generates 702 foot-pounds of torque.
7. 1991 Ford Escort RS Cosworth WRC 'Cossie' V2
The Cossie V2 was built by Ken Block after losing the V1 Escort Cosworth Group A rally car to a fire in the summer of 2018. It was powered by a 2.0-litre turbocharged inline-four and had All-Wheel Drive. It generated 645 hp with 527 foot-pounds of torque. The Cossie V2 starred in Gymkhana TEN.
8. 2014 Ford Fiesta ST HFHV
Starring in the Gymkhana 5 episode Fiesta HFHV (Hybrid Function Hoon Vehicle), is based upon the Ford Fiesta WRC rally car built by M-sport. Monster World Rally Team (Former name of HRD) did further developments. It had relatively less power than other cars on the list, making 350 hp and generating 515 foot-pounds of torque. It also had a slower 0-60 mph speed which was 2.3 seconds; slower than other cars by 0.3 seconds.
9. 1965 Ford Mustang Hoonicorn RTR V2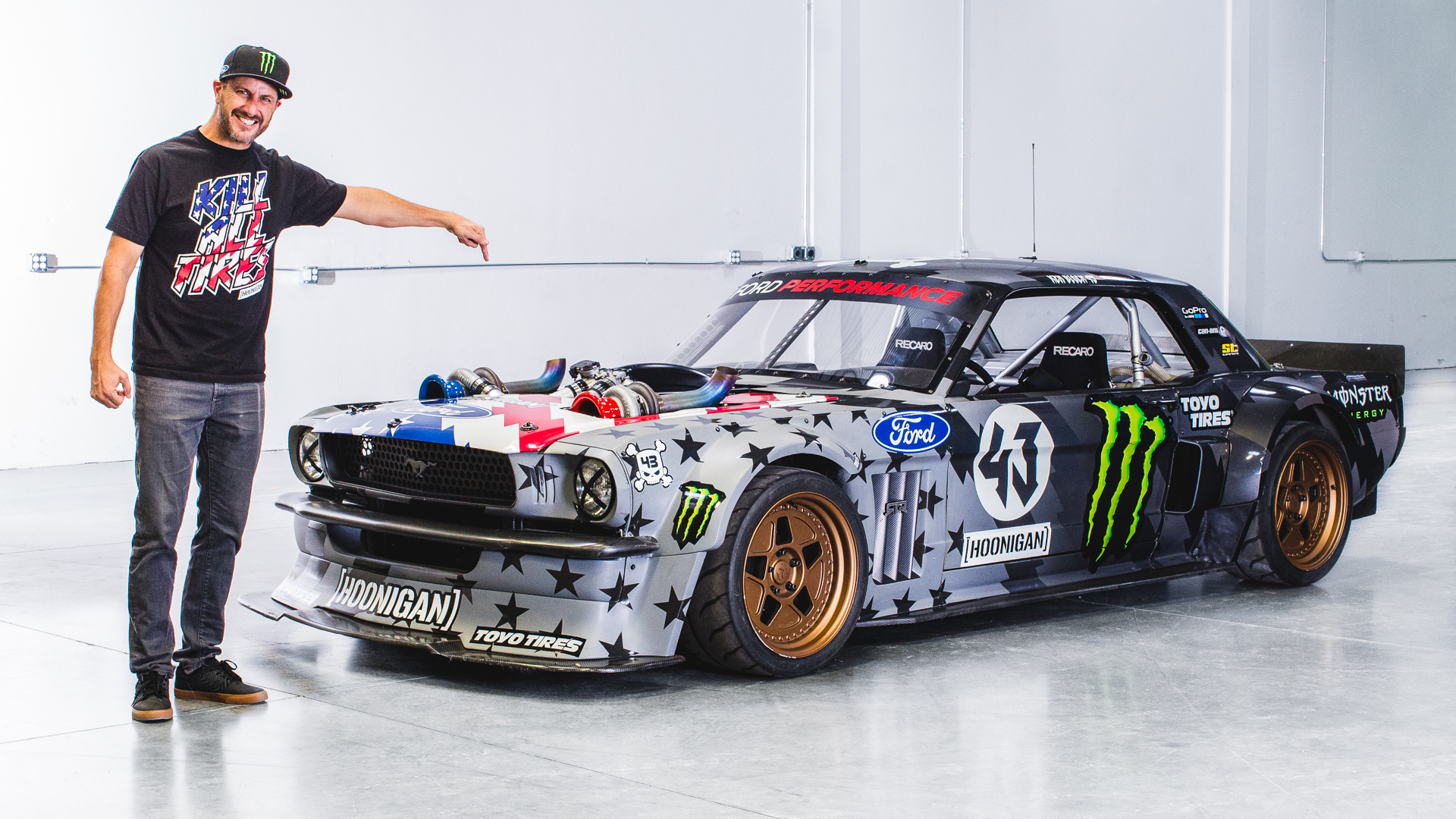 Ken Block must've thought that his already insane-spec Hoonicorn needs a further boost before rebuilding the V1 car. Now it has a modified 410 cubic inch Roush Yates Ford V8 engine with a twin-turbo setup from Garett. Now it generates 1400 horsepower and 1250 foot-pounds of torque. That's how you reimagine an icon to make it more 'icon'ic or should we say uh, 'Hoonicorn'ic?
Image Courtesy: Motor1.com, Topgear.com, Topspeed.com, Autoweek.com, Roadandtruck.com
Read More:– 2021 Alexandra Daddario Car Collection | Alexandra Daddario Cars | Alexandra Daddario Exotic Car Collection
Read More:- 2021 Ryan Reynold's Car Collection | Car Collection | Celebrity Cars
Join Us: Facebook | Whatsapp | Instagram