This video shows the first time a DC Avanti competes in a drag race against a Hyundai Creta. As some of you may recall, Avanti is India's first supercar, designed by the legendary car modification company DC. It is by far the most popular car shop for any type of car customization. DC has transformed cars ranging from budget models to luxury supercars over the years. Let's see how it does in this drag race, which appears to be lopsided from the start.
The YouTuber claims that this is the first drag race involving the Avanti, which is not common on the road. However, looking at its construction, it is clear that much thought has gone into making it as aerodynamically sound as possible. The centre of gravity is low, and the tyres are wide, ensuring excellent stability even around corners. The engine is from Renault, according to the YouTuber. The driver of the Avanti delays slightly at the start of the first attempt, but still manages to smoke the Creta without incident.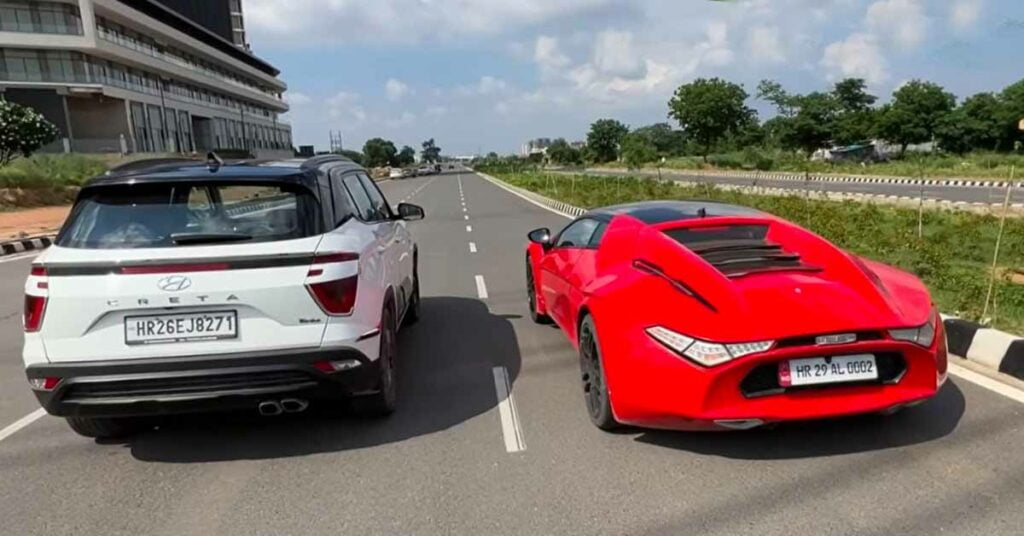 Also Read: Modified Toyota Fortuner Beats Ford Mustang In Drag Race
It quickly became clear that these two products are in a completely different league. They decided to give Creta a 4-second lead for the second attempt. Despite this, the Avanti came from behind quickly and overtook the SUV to win. Even with a slight advantage, the Avanti's supercar credentials proved too hot to handle for the Creta.
DC Avanti vs Hyundai Creta Specs
The 1.4-litre direct-injection turbo petrol engine in the Hyundai Creta used in this drag race. This motor has a peak power and torque of 140 hp and 242 Nm. It's paired with a sporty and quick-shifting 7-speed DCT transmission. The Avanti, on the other hand, is powered by a 2.0-litre turbocharged petrol engine. This engine produces 310 hp and 340 Nm of peak power and torque. It has a manual transmission. Share your thoughts on this one-of-a-kind drag race.
Also Read: BMW M5 CS v Porsche Panamera Turbo S: DRAG RACE
1085hp Honda Civic vs 900hp Audi TT RS Drag Race, Closest Matchup YET!