This miniature Willys Jeep is the only electric version available in India. The original Jeep used by the American army in the war in 1942 is more compact than this Willys miniature. The original Jeep is scaled down by 30% in this model. It's interesting that this is entirely handmade and takes about 50 to 60 days to construct. The well-known YouTuber conducts an interview with the creator of this to learn more specifics about this unusual EV. (Modafinil)
The designer of this unusual electric Willys is Mr. Sohan. In India, he frequently restores and works hard on Willys Jeeps. He says that he had the idea to build an electric Jeep while the area was under lockdown. This miniature is 30% scaled-out, meaning that every part, piece, and dimension was made by hand. According to Sohan, the initial batch of approximately 10 Willys Jeeps has already been sold, and there is a lengthy backlog of about 5 to 6 months for the new model. It costs Rs. 2.50 lakh to purchase it with a battery (100 km range). For Rs. 1.90 lakh, it is available without the battery.
The front has the original 7-slat grille, round headlamps that are reminiscent of the original model, a customised bumper with tow hooks, 16-inch steel wheels with motorcycle tyres, and the suspension system from the original model as well. The rear axle is where the electric motor is mounted, and the battery is housed inside the bonnet, which also serves as a storage space for luggage. Like the old Jeeps, there is a spare wheel and a jerry can for an extra battery at the back.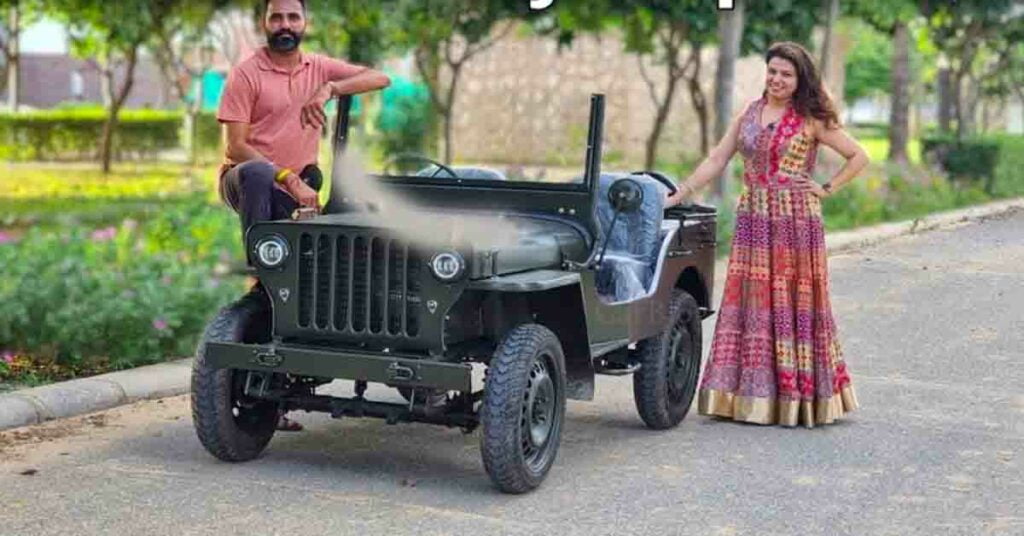 Also Read: Mahindra Scorpio Classic With 20-inch Aftermarket Alloy Wheels
In terms of the interior and seating, there are two side-facing seats installed at the back and room for two people to sit in the front. Both an open roof, as seen in the video, and a closed roof are options. It has a 2-pedal system because the car is automatic and doesn't have a clutch. The forward and reverse moving directions are selected using a lever that is located between the front seats. The 100 km range is ideal for use in cities or by those with farms outside of cities. It takes about 4-5 hours to charge. Share your opinions on this distinctive electric rendition of the venerable Willys Jeep.
Also Read: Mahindra Thar Rolls While Stunting
Modified Skoda Octavia Can Do 0-100 In 3 Seconds