Ananya Pandey was seen exiting her luxurious Range Rover Sport in this latest video. The interesting part is that her SUV is painted in a custom matte shade, giving it a meaner appearance. According to reports, she is flying to Goa for a vacation. She was apprehended at the airport. As most Bollywood celebrities own some variant of the British luxury car marque, any version of the Range Rover is considered a tradition. Let's go over the specifics here.
Cars For You has posted the video to their YouTube channel. Ananya is flying to Goa for a vacation, according to the video's description. We all know that Goa is a popular destination for people looking for a relaxing beach vacation. It's no surprise that our Bollywood stars come to Goa to relax. The vehicle in the video is a grey Range Rover Sport with black side pillars and roof. The rear roof-mounted spoiler is also black. The black theme complements the SUV's already eye-catching exterior design. The actress can be seen getting out of the front seat and posing for photographers.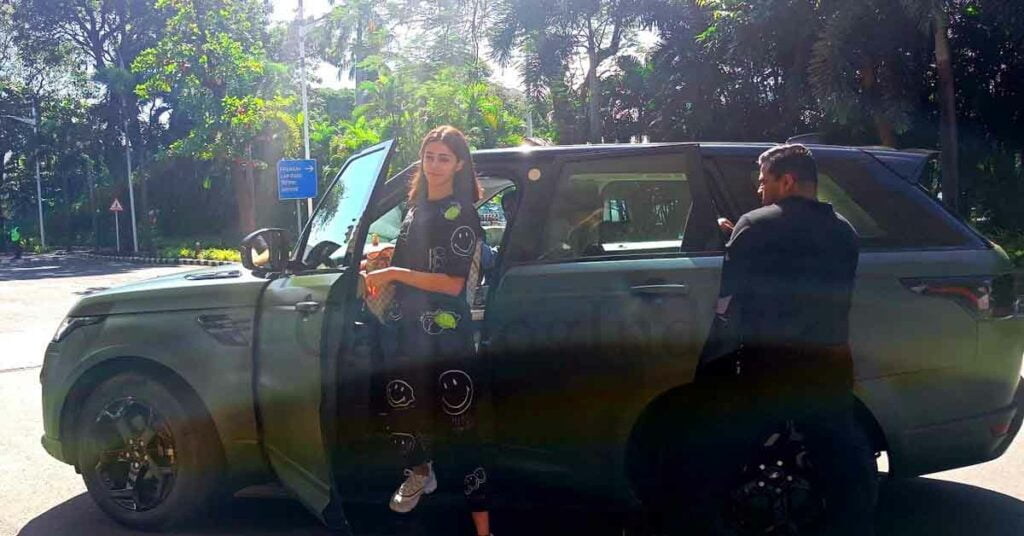 Also Read: Bollywood Celebrities With Their New Cars
The Range Rover Sport is available in a variety of trim levels. Dynamic, First Edition, and Autobiography are a few examples. It is powered by a 3.0-litre 6-cylinder turbo diesel engine with a Mild Hybrid system, which produces 346 hp and 700 Nm of peak power and torque. This engine is coupled to a manual transmission. Despite weighing 2.3 tonnes, the SUV has a top speed of 234 km/h and a 0-100 km/h acceleration time of 5.9 seconds. The towing capacity is impressive at 3,500 kg.
Ex-showroom, the Range Rover Sport costs between Rs 1.64 crore and Rs 1.84 crore. It is a popular product among India's entertainment elite and top sports personalities. What do you think of the Range Rover Sport?
Also Read: Bachchan Family's Multi- Million Mercedes Cars Collection
Brahmastra Star Cast Car Collection