Gucci Mane Car Collection and Net Worth
Gucci Mane Car Collection includes cars like Ferrari 812 Superfast, Lamborghini Aventador SV and he is a Rolls Royce fanboy and has 4 models the Rolls Royce Wraith, Dawn, Cullinan, and Ghost.
Radric Delantic Davis also popular as his stage name Gucci Mane is an American rapper and record executive. In 2005, Gucci Mane debuted with Trap House, followed by his second album, Hard to Kill in 2006. His third studio album Back to the Trap House was released in 2007. Gucci has helped pioneer the hip hop subgenre of trap music alongside fellow Atlanta-based rappers T.I. and Young Jeezy, particularly in the 2000s and 2010s.
Hot Reads: Khloe Kardashian Car Collection | Car Collection Of Model Khloe Kardashian
Gucci Mane Net Worth
Gucci Mane reportedly has a net worth of $14 million in 2021. He started Rapping at the age of 14 and has released 13 studio albums and over 71 mixtapes throughout his career. His car collection of 6 car costs at $2.5 million in 2021.
1. Rolls Royce Dawn
This is a convertible car from Rolls Royce which can generate 563Bhp horsepower and 0-100kmph is 4.3Sec. Gucci has customized this car in Red and White which cost him around $400,000 USD.
More Reads: Bad Bunny's Car Collection | Car Collection Of Puerto Rican Rapper Bad Bunny
2. Rolls Royce Cullinan
He also owns a luxury SUV from British carmaker Rolls Royce Cullinan. This Royce also has 563 Horsepower but 0-100kmph needs 4.8 sec. He also customized this SUV in red color same as his other Royce. This car costs around $400,000.
3. Rolls Royce Wraith
As we can see Gucci seems to be the Rolls Royce fanboy he also has a Rolls Royce Wraith coupe. He has customized this in Blue and the model costs $350,000. It is powered by a 6592cc V12 twin-turbocharged petrol engine which is mated to a ZF-sourced 8HP90 eight-speed automatic transmission and the engine makes 624bhp of power.
More Reads: Manny Khoshbin Stunning Rolls-Royce Collection | All White Rolls-Royces Of Manny Khoshbin
4. Ferrari 812 Super Fast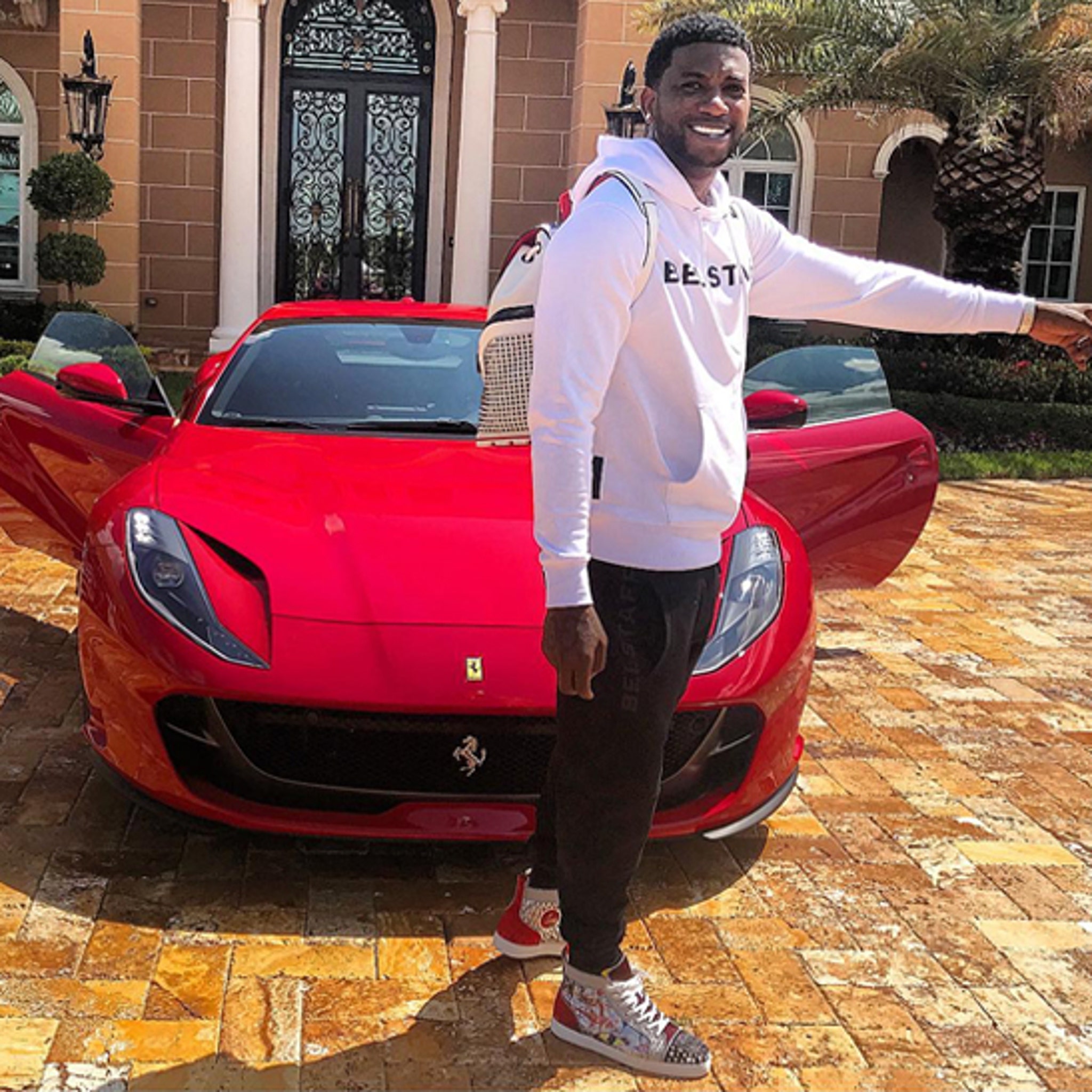 This is basically a reincarnation from the Ferrari FF. The car has a V12 petrol engine which produces 800BHp and Gucci bought this car in Red of course. The price of the car starts at $340,000 USD. It is available with Automatic transmission, the 812 Superfast has a mileage of 6.7 kmpl.
5. Lamborghini Aventador SV
The Lamborghini Aventador SV has 750Bhp of power and this car goes between the S model and the SVJ model. Gucci has customized this car in blue and this costs supercar costs him around $500,000.
6. McLaren 720S
This car has 720 bhp of power and a top speed of 212mph and he has also customized it in blue to match with the Lamborghini Aventador SV. This car costs him between $350,000-$400,000.