DaBaby Car Collection is worth $2.2 million which includes cars like Mercedes Maybach, Mercedes Maybach S650, Rolls Royce Cullinan and Dawn, And 3 Lamborghini's includung Huracan Spyder, Aventador Roadster and Urus.
Jonathan Lyndale Kirk known professionally as DaBaby (formerly known as Baby Jesus), is a famous American rapper. After releasing several mixtapes between 2014 and 2018, DaBaby rose to mainstream prominence in 2019. His debut studio album Baby on Baby (2019) peaked at number seven on the Billboard 200.
Hot Reads: Kourtney Kardashian Car Collection | Car Collection Of American Model Kourtney Kardashian
DaBaby Net Worth 2021
DaBaby has a net worth of $5 million in 2021. Most of his net worth comes from his successful chart-topping singles and albums. Until last year DaBaby was offered $30,000 to perform live and at the end of 2020 or from early 2021 he charges $300,000 per appearance. So we can broadly say that he is living the dream life we always want.
| DaBaby Car Collection | Price (In USD) |
| --- | --- |
| Mercedes Maybach GLS 600 | $200,000 |
| Mercedes Maybach S650 | $340,000 |
| Lamborghini Huracan Spyder | $250,000 |
| Lamborghini Aventador Roadster | $460,000 |
| Lamborghini Urus | $250,000 |
| Rolls Royce Dawn | $360,000 |
| Rolls Royce Cullinan | $330,000 |
1. Mercedes Maybach GLS 600
This car is the latest to the Dababy car collection which has 558 horsepower and costs around $200,000. The SUV is also known as the Mercedes-Maybach GLS 600 4Matic which uses a 4.0-litre V8 petrol engine that produces 550bhp and 730Nm Of torque.
2. Mercedes Maybach S650
The next car is also a Maybach which has a Handcrafted 6.0L V12 biturbo which generates 630Bhp of power and 1000Nm of toque. The car costs $340,000. This car is buletproof and has amazing interior which is good to get you the super rich feel.
More Reads: Car Collection of Gucci Mane | Gucci Mane Cars and Net Worth
3. Lamborghini Huracan Spyder
He also owns a white Lambo which is convertible and 610Hp. The price of the car turns around $250,000. The car gets power from a 5204cc v10 engine along with the 7-speed automatic taransmission. The car has sporty look and it is appealing at the frist appearance.
4. Lamborghini Aventador Roadster
Another Lambo to the collection is the Lamborghini Aventador Roadster. His Orange Lambo look hot and has hot price tag to this car cost him around $460,000. He has been often seen using this car and spoted on gas stations.
5. Lamborghini Urus
Next Lamborghini in collection is the Most powerful SUV the Lamborghini Urus which costs $250,000. This car is most loved car of the rapper he use this one like his daily commute option and the car's interior is further modified by him. The Lambo has a top speed of 305Kmph and 0-100kmph can be accived in 3.6 sec. Fast right.
More Reads: Bad Bunny's Car Collection | Car Collection Of Puerto Rican Rapper Bad Bunny
6. Rolls Royce Dawn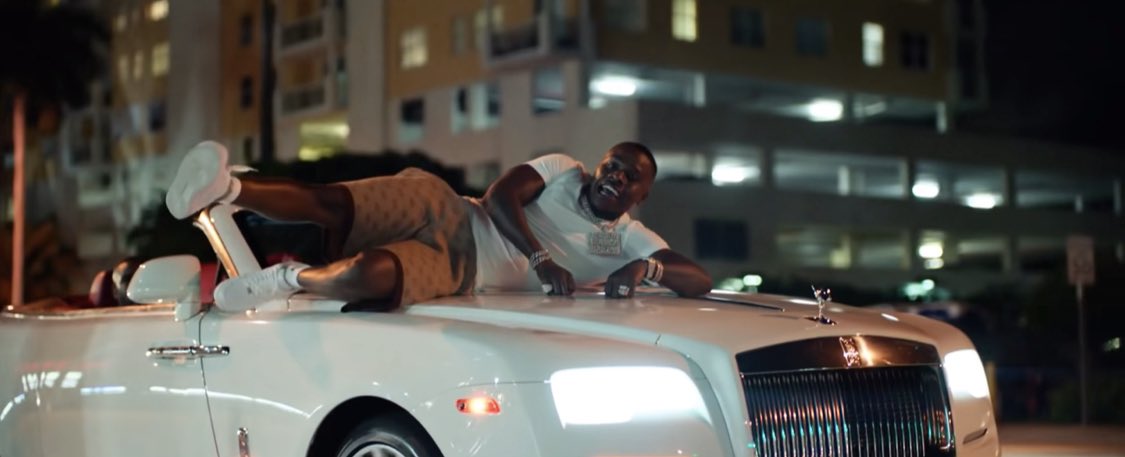 DaBaby Car Collection has 2 Rolls Royce from which one is this Rolls Royce Dawn which costs $360,000. The rapper has used this car in his songs too. He has special attachment with this car, one reason may be it is the first Royce he owns.
7. Rolls Royce Cullinan
And the other one is the Rolls Royce Cullinan lurxury SUV. We have seen this car in many of his Instagram Reels and videos. Car's interior looks like a night sky when lights of and also has ambient lighting. He had to pay around $330,000 to get this car in his garage. The car has maximun power output of 610BHp and top speed of 250kmph.