American Youtuber Jake Paul Car Collection and Net Worth
YouTube influencers are not in the average car collector fold, but they sometimes have the strangest of car collections Jake Paul Car Collection has amazing cars like Rolls Royce Phantom, Lamborghini Huracan performance, Toyota Tacoma, Tesla Model X, and Ford Focus RS.
Jake Paul is an American Youtuber Internet personality and professional Boxer. He gained focus when the music video for his 2017 single "It's Everyday Bro" went viral on YouTube. His younger brother Logan Paul is also a YouTube star.
Paul made his professional boxing debut on January 20, 2020. In 2018 Jake made an astonishing $21.5 million which was enough to make him the second-highest-paid YouTube star in the world.
Jake Paul Net Worth
As of 2021, Jake Paul's net worth is $30 million and his car collection alone costs about $1 million. The majority of his income comes from YouTube, and his Vlog channel, which has over 20 million subscribers and 6.6 billion views. And he also has his own marketing company called Team 10.
| Jake Paul Car Collection | Prices (In USD) |
| --- | --- |
| Rolls-Royce Ghost | $350,000 |
| Lamborghini Huracan Performante | $300,000 |
| Toyota Tacoma | $45,000 |
| Tesla Model X | $150,000 |
| Dodge Ram | $70,000 |
| Ford Focus RS | $50,000. |
Also Read: Top 5 Car Crashes Involving Famous Celebrities
1. Rolls-Royce Ghost
Jake Paul's car collection has a Rolls-Royce Ghost. With a price tag of $ 350,000 and has a top speed of 250 kmph. Ghost comes with a 6.75-liter twin-turbo V12 engine paired with a ZF 8-speed automatic transmission putting out together a maximum power output of 563.0 Bhp.
2. Lamborghini Huracan Performante
Paul bought this luxury supercar in 2018. This Lambo sprints from 0-100kmph in just 2.5 sec and has a top speed of 340kmph thanks to the V10 engine generating 630Bhp. This car which paul has is blue in color and costs him around $300,000.
3. Toyota Tacoma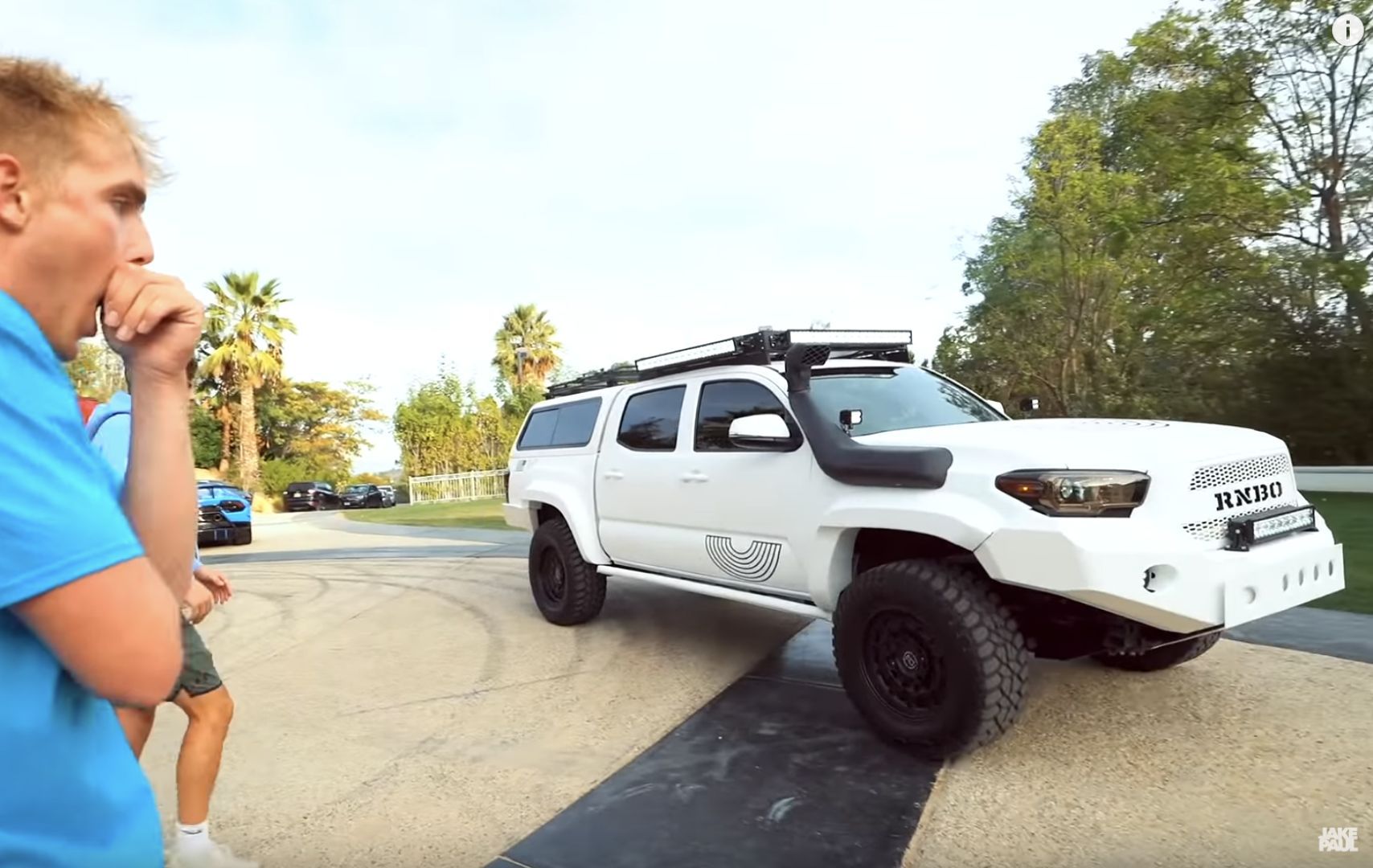 Toyota Tacoma is the ultimate pickup by a Japanese brand and it costs $45,000. The pickup is good for off-road cred, it is durable and highly configurable. And the 270-hp V-6 delivers unremarkable performance with a 6-speed automatic transmission.
More Reads: Car Collection Of Legend Paul Walker | Fast And Furious Hero Car Collection | Brian-O- Conner Cars
4. Tesla Model X
Paul also has an American Electric car which is Tesla Model X. He has also done further customization on the car from west coast customs with red and black stripes. The Model X costs around $150,000 USD. The Model X reigns supreme in driving range and furthermore, the car is customized so it has a lot of comfort features now.
5. Dodge Ram
Another pick-up in his collection is the Dodge Ram which finishes near the top of the full-size pickup truck ranking. The truck is offered with a 398-horsepower V8 engine. It is available with four-wheel drive, so the pick-up can carry you across sand and snow. Dodge Ram costs around $70,000.
6. Ford Focus RS
Paul loves American rides and this one is the classic Ford Focus RS. The is also customized from west coast customs in a lot of colors and the price of it turns around $50,000. It is powered by a turbocharged 2.3-liter four-cylinder that churns out 350 horsepower and 350 lb-ft of torque.