This most recent Maruti Brezza crash suggests that it may very well receive a full 5-star safety rating from the Global NCAP. According to sales for the month of August, the Brezza is the market's most popular small SUV. In order to draw in new customers, Maruti has updated the exterior to look bolder and added some cutting-edge high-tech features. The previous model had a GNCAP rating of 4, which was excellent. Let's see how the most recent model, which has not yet been crash tested, handles a collision.
The incident was reported from Himachal Pradesh on Prateek Singh's YouTube channel. He keeps posting this type of material in an effort to educate Indian car buyers about the significance of safety ratings. According to the information in the video, the Brezza was carrying 4 people. The small SUV was involved in an accident on the Shimla-Solan highway at a speed of about 50 km/h, about 7 km from Solan. Due to the 4-lane highway's ongoing construction, there was a lot of dirt and dust, which significantly decreased visibility.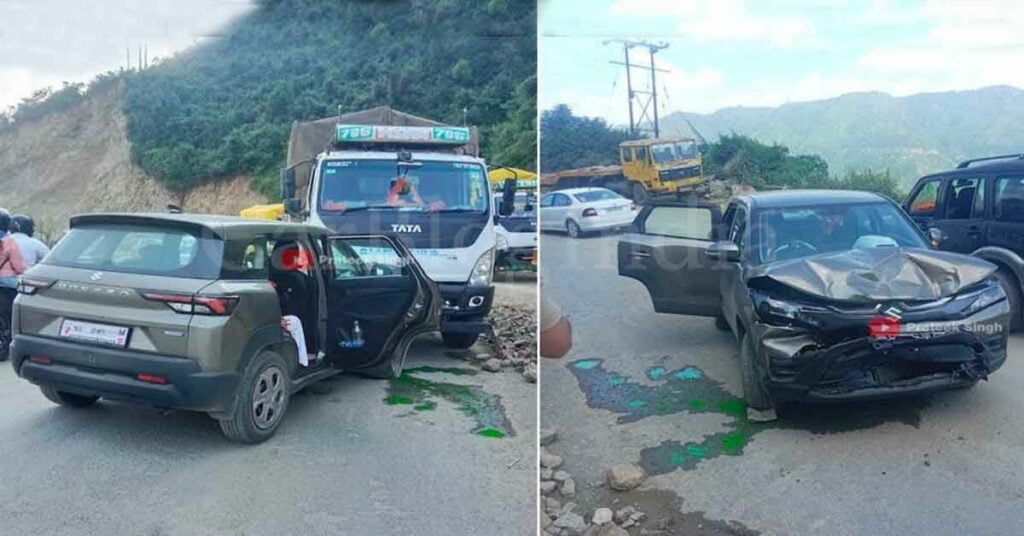 Also Read: Watch: Maruti Swift Skids Off Highway, Somersaults Into Field Near Nagpur
The Brezza's driver struck the truck head-on because he was unable to see it coming from the front. Thankfully, nobody was seriously hurt. Damage was done to the SUV's front fascia, which included the bumper, radiator grille, headlamps, bonnet, etc. But it is impressive that additional damage was prevented given that this was a head-on collision with a truck that occurred at about 50 km/h. The passengers were protected because the impact could not enter the cabin.
This output suggests a respectable safety rating. Before the Brezza is formally tested by the GNCAP, we will need to wait a little while. We must admonish our readers to obey traffic laws and keep to the posted speed limit. You could even stop the car or turn on the lights and drive very slowly when there is poor visibility, as there was in this situation. The truck would have been able to avoid the driver if he had been driving slowly. Observe the rules of the road and promote safe driving.
Also Read: Skoda Slavia Crashes Into Toyota Etios Liva
Tree Falls On Moving Tata Tigor