On October 18, Nissan India displayed the Qashqai, Juke, and X-Trail from its global lineup in New Delhi. While the new generation X-Trail full-sized SUV has been confirmed for domestic release, the Qashqai and Juke are being considered. The midsize SUV has begun road testing on public roads, and it has been spotted alongside the X-test Trail's prototype.
The five-seat Nissan Qashqai has an overall length of 4,315 mm and is positioned between the Juke and the X-Trail. If/when it is launched in India, the Qashqai will most likely compete in the highly competitive space with the Hyundai Creta, Kia Seltos, Maruti Suzuki Grand Vitara, Toyota Urban Cruiser Hyryder, and others.
The midsize SUV segment has seen the introduction of powerful hybrid models, and the Qashqai could benefit from Nissan's e-Power technology. Earlier this year, the Japanese manufacturer added the self-charging e-Power hybrid powertrain to the Qashqai lineup. The SUV has a sporty profile and stylish C-shaped LED headlamps.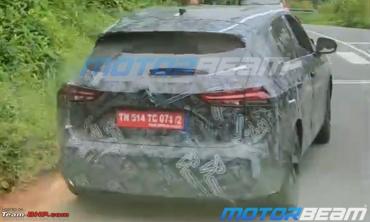 Also Read: Tata Nexon Crashes Into Parked Bikes Soon After Delivery
The Nissan Qashqai e-Power system consists of a turbo 1.5-litre three-cylinder petrol engine with 156 hp, an electric motor with 188 hp, an inverter, and a battery pack. The hybrid technology is self-charging, but it provides the experience of an EV because the electric motor drives the wheels and the regular ICE only serves as a generator.
The variable compression-capable petrol engine generates the energy required by the battery and inverter in a quiet and efficient manner. Because of the e-motor, the driver will have access to instant torque. When the driver eases off the throttle, the e-Pedal drive mode provides 0.2g deceleration and the battery is charged via regeneration braking technology.
It will be more suitable for urban and suburban environments, and the combined cycle efficiency in Europe is 5.3 litres per 100 km with lower CO2 emissions. A 12.3-inch floating touchscreen infotainment system, a 10.8-inch HUD, automatic climate control, a panoramic sunroof, powered front seats, a powered tailgate, ADAS-based assistive and safety features, and other features are included.
Also Read: New Jeep Grand Cherokee To Arrive On November 11
Top 5 Hatchbacks With ADAS | 2023 Best Hatchbacks That Offer ADAS