American Wrestler and Actor Bill Goldberg's Exotic Muscle Car Collection
William Scott Goldberg also famous by his ring name Goldberg, is an American professional wrestler, actor, and former football player. He is currently signed to WWE on a part-time deal. He is best known for his time in World Championship Wrestling (WCW). He has acted in various films and television shows, including, Universal Soldier: The Return (1999) and NCIS: Los Angeles.
The article focuses on the exotic and stunning muscle car collection of American professional wrestler Bill Goldberg. Goldberg car collection includes 1963 and 1969 Dodge, 1965 Shelby Cobra, 1967 Shelby GT500, GMC Typhoon, 1968 Plymouth GTX, 1970 Plymouth Barracuda, And 1973 Pontiac Firebird Trans Am Super-Duty.
| Bill Goldberg Muscle Car Collection | Prices in USD |
| --- | --- |
| 1965 Shelby Cobra | $3.85 Million |
| 1967 Shelby GT | $150,000 |
| 1963 Dodge 330 | $80,000 |
| 1968 Plymouth GTX | $66,700 |
| 1969 Dodge Charger | $46,500 |
| 1970 Plymouth Barracuda | $45,000 |
| 1973 Pontiac Firebird Trans Am Super-Duty | $128,000 |
| 1991 GMC Typhoon | $29,790 |
1. 1965 Shelby Cobra
Adding this car to the top of the list has a major reason behind it. The Muscular Shelby Cobra is not only exotic in terms of the look but also it carries an exotic price tag. The car costs about $3.85 Million. And at some auctions, the Cobra was also sold for more than $5 million which makes it the most expensive exotic car in Goldberg's collection. The stunning car has a NASCAR engine and that was built by Bill Elliott's brother, Birdie Elliot.
2. 1967 Shelby GT500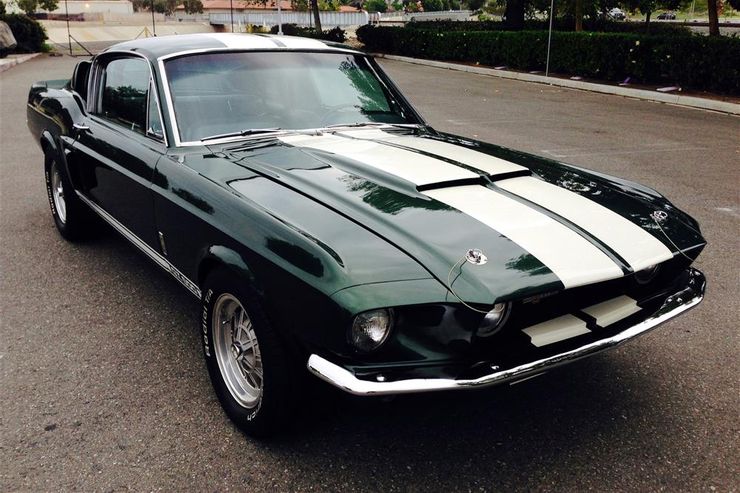 This is the first car to the Goldberg car collection, after making it big to the World Championship Wrestling. In an interview, he has shared that the car was his childhood dream, and he was dreaming of the purchase the car when he was a young boy. And the wrestler purchased the 67 Shelby GT500 right after he could afford one. The GT 500 has a price tag of $150,000 in the second-hand car market, it also depends upon the condition as well.
3. 1963 Dodge 330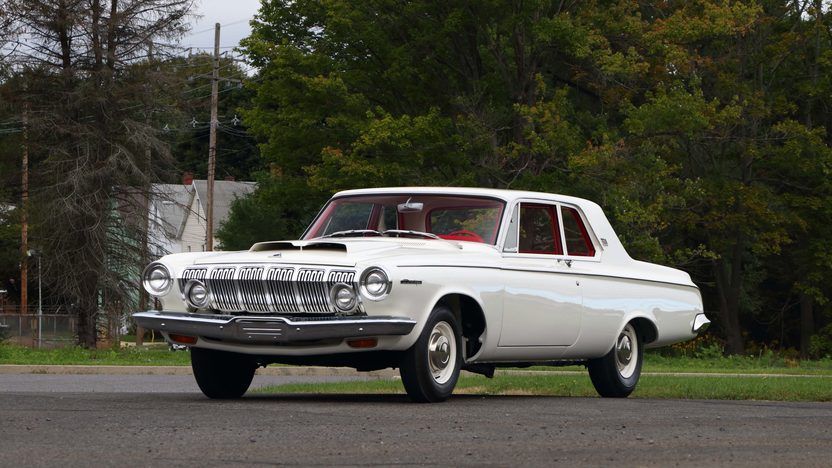 One car that Bill loves to take to the drag race track is the 1963 Dodge 330 which also has a Push Button Transmission. The car at the time offered a cigarette lighter which might be a common feature now but has a different level of significance at that time. This 2 door sedan is powered by a 7.0 litre or 426 cu in V8 engine which generates 425Bhp. The 63 Dodge is truly a collectible item and has a price tag of around $80,000 in the collectors market.
4. 1968 Plymouth GTX
The 69 GTX is a piece of vintage American car history. The car was a great success for the manufacturer during its day, and the same thing is repeating itself, Now the car has become a desirable car in the collector's car market. This mid-sized upscale-trimmed performance muscle car has a 7.2-liter V8 engine which generates 375 hp. This car may look old-fashioned and just a collectible item but wait it can still compete for the major automobiles in the market to date with its ability to accelerate 0-100 kmph in 6.5 sec. Amazing right?
5. 1969 Dodge Charger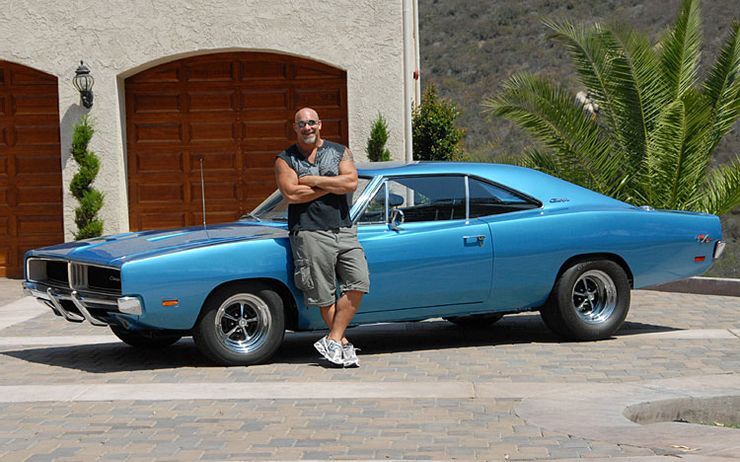 I must say the 1969 Dodge Charger is the most common car we have covered in our numerous articles. But why not after all its a collectible and a car with futuristic looks. Goldberg has once shared a photo with this amazing Sky blue-colored car with a Supercharged powertrain. Although being the common in car collection the car carries a price of about $46,500 in market.
6. 1970 Plymouth Barracuda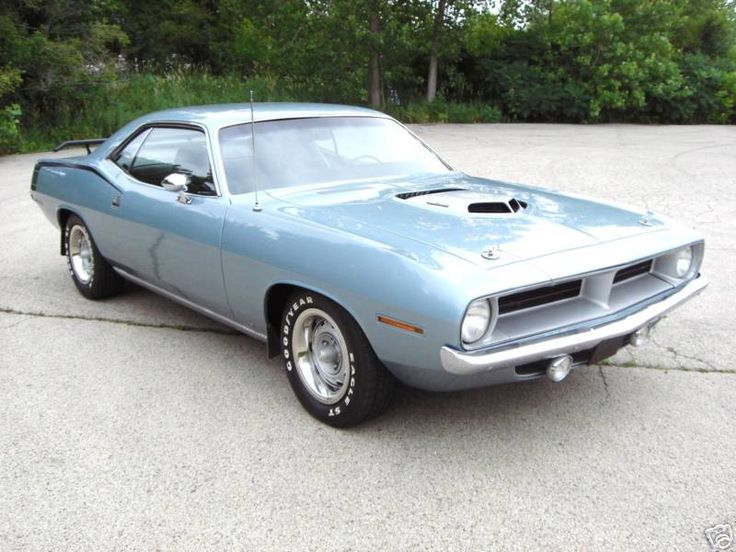 American car collection is incomplete without a Barracuda. And Bill owns one with the Four-speed automatic with a 5.6-liter V8 engine. We can't actually discuss about the price of the car because good condition Barracuda can range from $45,000 – $85,000 but it's a good car to have around.
7. 1973 Pontiac Firebird Trans Am Super-Duty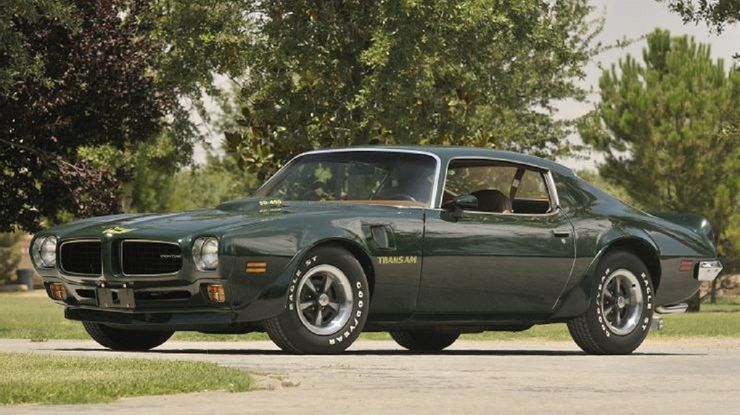 This is the most unique car in Goldberg's car collection. Only 152 Of such Pontiac Firebird Trans Am Super-Duty was ever built. Bill has expressed that he doesn't like the Brewster Green color of the car but he never repainted the car. The 1973 Trans Am has been considered by many as a pinnacle Trans Am offering SD power, great color combinations, better than ever handling, refined exterior and interior styling, and of course that outrageous hood bird. All this package will somewhere cost a new buyer for about $128,000
8. 1991 GMC Typhoon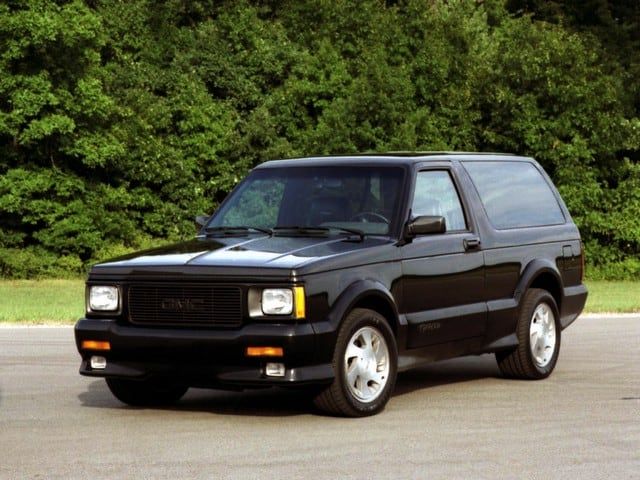 Goldberg owns many SUVs on the current date, but in this article, we have just focused on the iconic car. But the wrestler is not behind in the iconic SUV segment too, he owns the 90's super SUV the GMC Typhoon. The GMC Typhoon is a high-performance SUV, produced from 1991 to 1993 by GMC which comes with a 4.3 L LB4 V6 engine. And the engine also uses a turbocharger producing 14 psi of boost. The car was launched at the price of $29,790.