American Rapper Kodak Black Car Collection
Rapper Kodak Black Car Collection Mercedes Maybach GLS600, Jeep Wrangler Rubicon Custom, 1930 Oldsmobile Cutlass Custom, and Lamborghini Urus.
Bill Kahan Kapri better known by his stage name Kodak Black, is an American rapper. He gained initial recognition with his single "No Flockin", released in 2014. His debut album, Painting Pictures (2017), peaked at number 3 on the US Billboard 200 and included the Billboard Hot 100 top ten single "Tunnel Vision".
Black's second album, Dying to Live (2018), peaked at number one on the Billboard 200 and was supported by the single "Zeze" (featuring Travis Scott and Offset), which peaked at number 2 on the Hot 100. In 2019, Black was arrested for weapons possession and was sentenced to almost four years in federal prison
Hot Reads: Kevin Hart Car Collection | American Actor Kevin Hart Cars and Lifestyle
Kodak Black Net Worth
Kodak Black's net worth is estimated to be $600,000 in 2021 which looks very low. But as per agencies, he has not revealed his income and properties. And looking at his car collection this totally looks fake, because Kodak's Car Collection of 4 cars itself costs $900,000. Funny right!
| Kodak Black Car Collection | Price (In USD) |
| --- | --- |
| Mercedes Maybach GLS600 | $400,000 |
| Jeep Wrangler Rubicon Custom | $100,000 |
| 1930 Oldsmobile Cutlass Custom | $50,000 |
| Lamborghini Urus | $350,000 |
More Reads: Travis Scott Car Collection | Car Collection Of American Rapper Travis Scott
1. Mercedes Maybach GLS600
This is the latest car he bought and it is in duotone paint which is red and blue. This car costs $400,000 in the US with all the customization he has done. The car features a 4.0-liter V8 petrol engine that produces 550bhp between and 730Nm of torque. The car can sprint from 0-100kmph in 4.9 seconds
2. Jeep Wrangler Rubicon Custom
He customizes his rubicon with insane wheels and body kit with all of this he probably spent around $100,000 on the car. The car uses a 1998 cc, 4 Cylinders which generate 268 bhp @ 5150 rpm and 400 Nm @ 3000 rpm of max power and max torque respectively.
3. 1930 Oldsmobile Cutlass Custom
Kodak black loves old school cars he has a very old model of cutlass which costs $2000 but after all the customization work and paints it cost him probably $50,000. Oldsmobile was a brand of American automobiles produced largely by General Motors.
4. Lamborghini Urus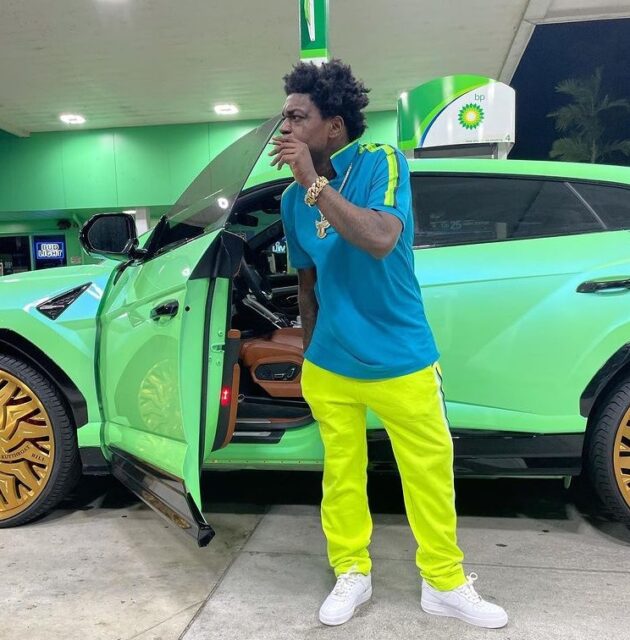 Kodak also owns one of the most expensive and powerful SUVs in world the Lamborghini Urus. One which he owns is customized in max green with gold wheels and brown interior. Well everyone has his taste he has spent around $350,000. The Urus is the fastest SUV in world with top speed of 305kmph and 0-100kmph in 3.6sec.