A Mercedes E Class is seen in this video clip colliding with a Suzuki Hayabusa in Amritsar. The incident occurred near Amritsar's Narayangarh Byepass. On a daily basis, such accidents occur on Indian roads. Some of them are captured on public CCTV cameras such as this one. As a result, determining who was at fault becomes simple. However, the majority of them occur in remote locations and go unreported. Let's look at the specifics of this horrifying crash.
The video clip has been uploaded to YouTube under the category Shorts. It captures CCTV footage of a Mercedes E Class and a Suzuki Hayabusa colliding at high speed. The impact was so powerful that the bike flew through the air and was completely destroyed. The clip's second half depicts the bike's dilapidated state, in which it is seen broken into pieces. In fact, the bike is unrecognizable.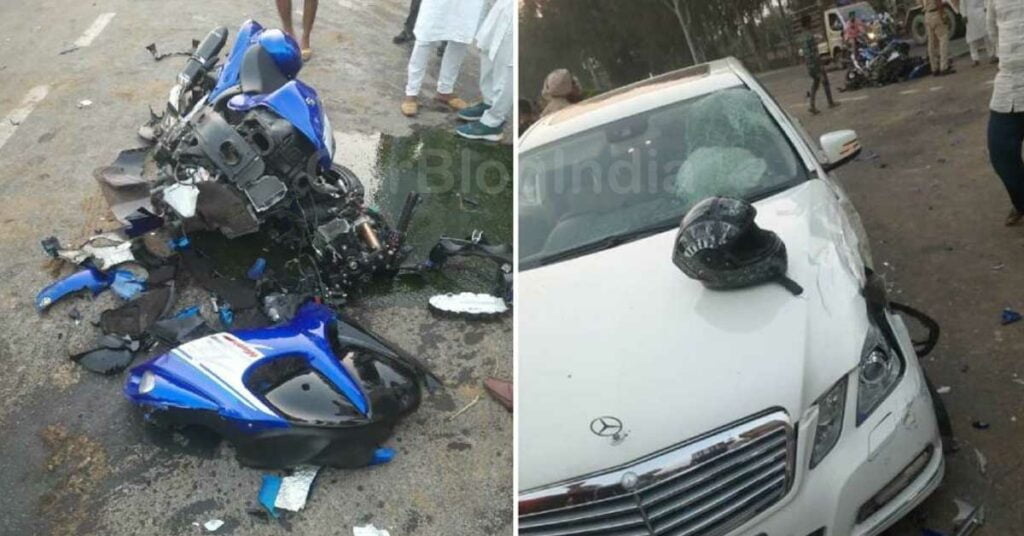 Also Read: Mahindra Scorpio N First Accident
The Merc, on the other hand, is still in better shape because the bike hits it from the front left side. Only the bumper and fender are slightly scratched. However, there is no information on the bike rider. It would be a miracle if he could get away from this without being seriously injured. Nonetheless, we can only hope that he survived this tragic and violent crash. The Merc appeared to want to make a U-turn, which is why it was approaching the divider.
However, the biker must have been traveling at a high speed, which is why he or she may not have been able to control the bike despite seeing the car directly ahead of it. The images show that it was a long open stretch of road, so visibility was not an issue. Overspeeding could have been the sole cause of this accident. As a result, we always advise our readers to spread the message of obeying traffic laws and avoiding overspeeding at all costs. What are your thoughts on this?
Also Read: Watch: Man Accidentally Falls Out Of Convertible BMW As Friend Tries To Show Off At Drivers' Meet
Famous Celebrities That Died In A Car Accident